©Dr. Larry Basch, D.C., CCSP, CCEP
---
……………SPECIAL REPORT
AUTO ACCIDENT INJURIES
UNDERSTANDING WHIPLASH INJURIES
The Cervical Acceleration/ Deceleration Syndrome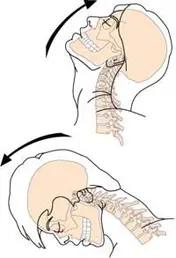 What You Need To Know About Your Injuries
And Your Insurance Rights
For Your FREE REPORT on Whiplash Injuries
For Whiplash Research Facts
Complements of Dr. Larry Basch
Auto Accident Victims:
DON'T LET YOUR AUTO ACCIDENT AFFECT YOUR HEALTH FOR THE REST OF YOUR LIFE!
Receiving the proper treatment from a trained specialist will help you avoid potential lifelong problems. Our specialized videos will help you understand what happened to you during the crash and why you are in so much pain and what to do about it. We have patients that have had accidents several years back and now they are coming in with disc degeneration and arthritic conditions from their accident. Did you know that auto accidents can cause post traumatic Osteoarthritis? Oseoarthritis can cause the discs in your spine to degenerate and create scar tissue. Do you want this to happen to you?
WE HAVE THE TOOLS TO INCREASE YOUR ODDS OF A FULL RECOVERY.
Full Spine & Extremity Manipulation

Gentle Non-Force ArthroStim Mobilization

Spinal Decompression

Class IV High Power Laser

High Power PEMF Therapy

Theraband Rehab

Whole Body Vibration

Infrared Sauna Therapy
OTHER INFORMATION YOU SHOULD HAVE.
You should get the care you need to get back to the way you felt and functioned just before the accident.

Do not settle with the insurance company before being evaluated by a Doctor trained in soft tissue injuries.

If you feel that you need to be referred to an attorney, please let us know.

Documented studies by Charles Carroll, MD, Paul McAtee, MD, and Lee Riley, MD, reveal that: "The amount of damage to the automobile bears little relation to the force applied to the cervical spine (neck) of of the occupants"
Dr. Basch has additional training in treating whiplash injuries and has received Advanced Certification in the Treatment of Whiplash Injuries from the Spine Research Institute of San Diego.
* We can also help you find an honest, ethical personal injury attorney experienced in this types of cases.
We can help you & others
1. Get out of Pain
2. Prevent Future Pain
3. Deal with the Insurance Companies
Call our Menifee clinic 951/679-4121
Whiplash/Auto Accident Injuries
Dr. Larry Basch, the clinic director has been treating auto accident injuries since 1993 and he has an Advanced Certification in the treatment of Whiplash Injuries. Our office has the most advanced therapies to help you heal faster. Some of our therapies include electric muscle stimulation, traction, moist heat therapy, Whole Body Vibration, High Power PEMF, spinal decompression, Class IV High Power Laser therapy and natural nutritional therapies. We also specialize in gentle light force adjusting using a special instrument called an ArthoStim Adjusting tool. This instrument helps us realign the spine without any "twisting or cracking." If you have been in an auto accident you need to be evaluated by a doctor who specializes in auto injuries and will not just give you medications to cover up the symptoms. People who have been in an auto accident and do not have their spine realigned are at a greater risk for degenerative arthritis of the spine.
For a free consultation you can call and because of the severity of auto injuries and their effects on the spine we will see you the same day. We can help with all of the insurance paperwork and can even recommend a competent ethical local attorney if needed.
What is Whiplash? Whiplash occurs when the head is violently snapped back and forth. Since your neck is the most flexible part of the spine, it is more vulnerable to injury.
Four Major Types of Injury Occur
Muscle Injury:

During an accident your muscles are often stretched or strained. This can lead to painful swelling and tenderness in the muscles of the neck and shoulders.

Nerve Injury

As the muscles are stretched, so are the nerves. Nerves can be stretched too far or "pinched." This occurs more often if your head was turned during the impact or your headrest was not positioned properly.

Joint Injury

The key to the movement in your neck is the joints located in each of your cervical vertebrae. They allow the bones to move smoothly over each other. Injury to these joints may cause pain in the area of the affected joint and/or pain in other areas of the body such as the arms and shoulders.

Disc Injury

Discs function as shock absorbers and spacers between the vertebrae. They make space for the sensitive nerves to exit the spinal cord. A whiplash injury can cause these discs to bulge, herniate or rupture, which may lead to painful nerve irritation.
Whiplash can also occur from sports impacts, slips and falls.
Symptoms of Whiplash
Neck Pain

Headaches

Dizziness

Blurred Vision

"Pins and needles," Numbness

Reduced Mobility
How Can Chiropractic Care Help? Proper treatment of any condition involves treating the cause and not just the symptoms. As a chiropractor, Dr. Basch and associates are specially trained to pinpoint the root cause of your symptoms. Your symptom may stem from a new injury or one sustained years ago. We will review your complete health history and perform a thorough physical examination to reveal any underlying physical problems.
Chiropractic care can provide pain relief and increase your mobility and flexibility.

Increased mobility and flexibility allow your body to heal faster.

Chiropractic care is a safe, effective treatment for whiplash.

Chiropractic care can help restore the normal forward curve of your neck without the use of drugs or surgery.
Whiplash Facts
Most rear-impact car accidents occur between 1/2 mile to 5 1/2 miles per hour.

An impact at 5 miles per hour can cause soft tissue damage. In a rear-impact car accident, your head can accelerate up to 2 1/2 times faster than your car.

A significant percentage of people with whiplash will suffer chronic symptoms and 10% will suffer disability.