©Dr. Larry Basch, D.C., CCSP, CCEP www.LaserSpineandSport.com
PowerVibe Vibrational Rehab Therapy
Introduction
The great benefit of modern healthcare is that many of us are living longer lives. Which is good, as long as we are also living well. Nobody wants to live long and live the last 20 years of his or her life in a vegetative state in a retirement home.
Over the last 40 years a tremendous body of research has been compiled as to the beneficial effect of exercise. Facilities such as The Cooper Clinic in Dallas, and similar institutes are springing up everywhere. It is now very well accepted that regular exercise, as part of a healthy lifestyle will keep you mobile, flexible and strong.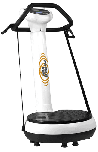 The population demographic is undergoing a tremendous shift - the Baby Boomer generation is arriving at retirement age. And these folks are living longer then ever and they want to be active. Many of them have been spending most of their lives raising kids, working, creating wealth for retirement and have hardly had the time to stay in shape! As a result, many are overweight and underexercised. Not having been to a gym in years, they experience significant entry barriers when trying get moving again. Statistically, the single most common reason why patients are admitted to a assisted living facility is due to lack of mobility. A condition mostly avoidable by following some simple exercise protocols throughout life! Working on the 3 components of mobility, namely flexibility, strength and balance, we can have very productive, enjoyable and long lives. With the arrival of Whole Body Vibration keeping it has become significantly easier to stay in shape. In order to help our customer with keeping fit, we have developed several workout protocols for each of these aspects of mobility. We have also poured over research on osteoporosis and have put together a work-out regimen using the Power Vibe Pro™ based on those findings!
The Power Vibe Pro™ is easy to use, safe, and a very efficient Whole Body Vibration unit. Even an initial 10-minute protocol on the Power Vibe Pro™ in the "Beginner" mode can be challenging for most elderly users. Yet within a couple of weeks patients typically can progress to the next level and increase the time at their own speed.
Below you find a list of the physiologic reasons for maintaining the flexibility and pliability of tissues. It is by no means a complete list, but it demonstrates very well the importance of keeping tissues active.
REDUCES TENSION IN MUSCLES AND HELPS MUSCLES RELAX: Many studies have shown that increased flexibility can significantly reduce aches throughout the body, an issue that is significantly on the rise with today's sedentary lifestyles!
EXERCISE IMPROVES FLOW OF OXYGEN AND INTAKE OF ESSENTIAL NUTRIENTS: It allows the muscles to work properly. Muscles that are not pliable tend to cut off their own circulation, which can result in lack of oxygen and nutrients.
HELPS REDUCE AND MANAGE STRESS: With flexibility comes a significant reduction in the "tension" in your body. You will feel less stressed, which is essential because stress is a leading contributor to chronic diseases.
IMPROVES YOUR POSTURE: Exercising your lower back, shoulders and chest properly helps to align your back and improve your posture - which helps to take the strain and excessive workload of the spine, particularly the neck.
PROVIDES BETTER CIRCULATION: Exercising increases the blood supply to your muscles and joints, improving circulation throughout the entire body
SLOWS THE DEGENERATION OF YOUR JOINTS: Working out helps to increase your range of motion and may slow the degeneration of joints.
HELPS TO ELIMINATE OR AVOID LOW BACK PAIN: Flexibility in the hips, hamstrings, and pelvic muscles helps to remove stress from your spine that causes lower back pain.
HELPS TO ELIMINATE PAIN FROM STRESS ON MUSCLES: Exercise makes muscles flexible and loose, reducing the shortening and tightening effect from working your muscles and the associated aches and pains from it!
IMPROVES CLARITY AND FOCUS: For many of the reasons noted above, such as improved blood and oxygen circulation and reduced body tension, you will experience greater mental clarity and focus.
MAY REDUCE YOUR RISK OF INJURY: Flexible muscles are not as likely to become injured from extended movements.







Who Uses Vibration Therapy?
Men's Health Magazine
June 2008
Mark Wahlberg Interview

...Wahlberg warms up by jumping rope or doing a few sets of squats on the vibrating machine (a machine that studies have shown to increase muscle activity as you do squats, deadliffts and other exercises)...

ABC News
January 29, 2007
Gunnar Peterson Interview

Los Angeles based personal trainer Gunnar Peterson says, "If you look at them like a great addition, a great adjunct, a component to your fitness, I think you're going to get a lot out of it."

Peterson says vibration machines are able to build muscle, strengthen bone, rehabilitate injuries, and help users get more out of their exercise routines.

Health Magazine - Oct 1, 2008 - Sophia Bush

Sophia Bush Loves Her Healthy Curves from her VibraSlim
I just got a vibrating plate called a "VibraSlim" and I'm so excited about it. You can work out on it, but I use mine after a workout to shake out my muscles. And what's neat is that it helps you build bone density. I'm 26 now, and thinking about the fact that women are developing osteoporosis in their 40s.... read article

US Weekly Magazine - July 25 - Gwen Stefani
Singer/actress Gwen Stefani, a client of Gunnar Peterson, used the machine for tightening up her legs, according to an article in the July 25 issue of US Weekly magazine.

"Madonna looks amazing thanks to $14,000 vibrating plate" -by REBECCA CAMBER, Daily Mail, UK July 2006

"With her heavily muscled arms, you would be forgiven for thinking it is the result of a punishing exercise regime at the gym. But it seems the Queen of Pop's incredible shape is, in part, thanks to the vibrating platform - dubbed the 'miracle' machine. The whole body vibration exercise is said to be responsible for the incredible shapes of not only Madonna, but also stars such as Claudia Schiffer and Natalie Imbruglia.

But the "miracle" machine doesn't come cheap - at £6,995 ($14,000 USD) it costs far more than the average annual gym membership. After the muscley 47-year-old Queen of Pop bought the vibrating exercise platform, sales have reportedly soared. And in Harrods, around 20 machines are sold every weekend."




Madonna (Musician)
Prince Albert of Monaco
Sean "Diddy" Combs (Musician)
Shaquille O'Neal (Miami Heat)
Lance Armstrong (Cyclist)
Sir Anthony Hopkins (Actor)
Clint Eastwood (Actor)
Colin Montgomery (Pro Golfer)
Craig T. Nelson (Actor)
Daren Holmes (Atlanta Braves)
David Cone (NY Mets)
Don Johnson (Actor)
Eric Karros (Chicago Cubs)
Gwen Stefani (Musician)
Heidi Klum (Supermodel)
Ivana Trump (Socialite)
J.D. Drew (St. Louis Cardinals)
Jane Fonda (Actor)
Julie Andrews (Actor)
Karl Lagerfeld (Fashion Designer)
King of Saudi Arabia
Larry Nelson (Pro Golfer)
LeBron James (Cleveland Cavaliers)

Anaheim Ducks
Atlanta Braves
Blue Jays
Calgary Flames
Chicago Cubs
Dallas Mavericks
Dallas Stars
Kansas City Chiefs
LA Avengers
LA Dodgers
LA Kings
LA Lakers
Miami Dolphins
Miami Heat
New York Giants
New York Mets
Oakland Raiders
Philadelphia Flyers
Pittsburgh Pirates
San Diego Chargers
San Diego Padres
S. Korea Soccer
St. Louis Cardinals
Tampa Bay Buccaneers
Tennessee Titans
Toronto Blue Jays
Toronto Maple Leafs
US Olympic Training

NASA
USC
Yale
UCLA
Stanford University
UC Berkeley
Azusa-Pacific University
Chapman University
Emory University
Ohio State University
UC Davis
University of Houston
University of Louisville
University of Nebraska
University of Washington

Aspen Longevity Anti-Aging Clinics (CO)
Beverly Hills Pilates
Biltmore Hotel (NYC, Beverly Hils)
Center for Spinal Diagnostics, Inc.
Cherry Creek Longevity (CO)
Chris Verna Training (PA)
DC Sports Performance (CA)
DeOrio Medical Group
HealthSouth (Nationwide)
Kronos Optimal Health Co.
Leader Sports (GA)
Leader Sports Medical (GA)
Lemond Fitness
Loma Linda Medical Complex (CA)
Max Out Golf
NASA (Johnson Space Center)
National Academy of Sports Medicine
The Yard (CA)
US Golf Association