21st Century Advanced Pain Relief
using Directed Energies.
The Future of Healing is Here
The Most Advanced - Most Powerful
High Power Therapeutic Laser, PEMF & LED System in the region.
Now offering CBD Pain Products
How Long Will You Live With Pain?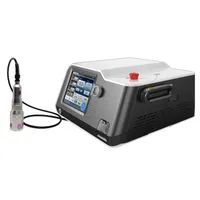 Menifee Chiropractic Natural Wellness Clinic Ph 951 / 679 - 4121
Dr. Blake Caropino, D.C. Primary Doctor Dr. Larry Basch, D.C. Clinic Owner
We are participating providers to most all Insurance plans, including American Specialty Health, Medicare, Auto Accidents, Tri-Valley, Tri-Care & more, however some plans require a referral. We offer cash plans as well.
Please Call us - Do Not EMAIL us thru this site, this feature is not effective.
26820 Cherry Hills Blvd., Ste 4, Menifee, CA 92586
On Bradley, across from McDonald's, Behind Compass Bank
Serving Menifee, Sun City area in the Same location since 1968 !
---
Most Insurance Accepted for Chiropractic Care, other services not covered.
We accept Cash, Visa, MasterCard
---
Patients seeking treatment at our Natural Wellness Clinic are assured of receiving only the finest quality care through the use of modern chiropractic equipment and technology. Our staff has a genuine concern for your well-being!
If you are new to our website, please feel free to discover and learn about chiropractic wellness. If you are interested in starting your journey towards wellness please subscribe to our award winning newsletter. If you are already a newsletter subscriber, please explore the member wellness section of our website for wellness articles, resources, and health facts---specifically targeted to your wellness needs and interests.
It's Your Life... Live it in Health!
MEDICAL DISCLAIMER: The information, including but not limited to, text, graphics, images and other material contained on this website are for informational purposes only. The purpose of this website is to promote broad consumer understanding and knowledge of various health topics. It is not intended to be a substitute for professional medical advice, diagnosis or treatment. Always seek the advice of your physician or other qualified health care provider with any questions you may have regarding a medical condition or treatment and before undertaking a new health care regimen, and never disregard professional medical advice or delay in seeking it because of something you have read on this website.